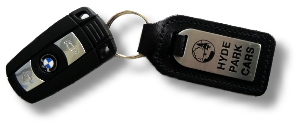 Hyde Park Cars is an independent specialist BMW dealer and as such can be relied upon when it comes to financing your choice of car. We have many years experience in motor finance and understand that people have different needs both in the cars they drive and the method of funding it.
We have enjoyed excellent relationships with a number of reputable Finance Companies who specialise in offering Finance Agreements tailor made for the purchase of your desired motor car. This enables us to seek out the best possible deal for you, offering the maximisation of your spending power whilst minimising your repayment levels.
If you would like a quote call David on 01752 601551 or download a finance application form (PDF) today and fax or email to us – or even better, call in to our dealership for further information.
Please note that finance is subject to status and the rate may depend upon your circumstances.
Note: This is only an estimate, and does not include insurance, taxes, transfers or any other additional costs.
Featured Vehicles