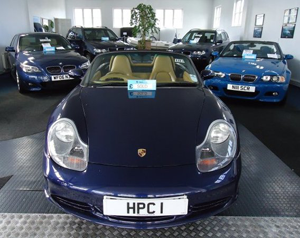 Hyde Park Cars is a family run dealership with over 20 years history at its location in Peverell, Plymouth after first opening its doors in 1995.
We take pride in the cars we sell and the unique, honest, friendly service we offer. Our main priority is that all of our customers are happy with the purchase experience and drive away delighted with their choice of BMW or German specialist car that matches their wishes and needs both practically and financially. This has resulted in an ever growing number of new and returning customers who are more than happy to recommend us to family and friends.
Meet our team
David Nelson
David is the main driving force of the dealership and has enjoyed over 30 years experience within the motor trade.
David is passionate about providing customers with the perfect car, followed by unique after sales service. He knows his stuff too! Starting 'on the tools' in his home town in Northern Ireland, he graduated with a HNC in Mechanical Engineering and City & Guilds 1, 2 and 3 in Motor Vehicle Repairs. This was followed by inspirational Sales and Sales Management experience, ranging from David's home town to BMW main dealerships across the UK and BMW Headquarters in Bracknell.
But Plymouth had etched its place in David's heart. In 1995 he decided to leave the main BMW Plymouth franchise and start an independent BMW dealership in the Devon city which had become his home.
Steve Curtis, Sales Executive
Steve joined Hyde Park Cars in October 2015. His involvement in the motor trade stretches back over 20 years during which time he has worked at a number of main dealerships including Toyota, Nissan, Suzuki and V.W. During this time he also gained extensive experience in the used car sales sector with focus on the high performance and sports vehicles, gaining a wealth of experience at management level along the way.
A warm welcome from Steve is assured to previous and new customers alike.
Carole Nelson, Company Secretary
Carole, David's wife, has over 20 years experience within Customer Service and Office Administration. She is dedicated to offering the best customer experience possible whilst ensuring that the administration is highly organised and efficient whilst keeping a warm smile and welcoming atmosphere.